Story by Kathryn R. Burke
All content © San Juan Publishing Group, Inc, All rights reserved.
[WesternColorado, San Juan Mountains] WHAT WILL WE SEE? Everybody always asks that," says Brandy Ross of Ouray's  Switzerland of America 4×4 adventure tours (Tour Video).  "They want to know where we go and what to look for."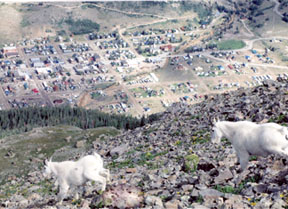 "We get the same question," agree Jimmy Lokey of Red Mountain RV and Denny Martin of  Silver Summit, both in Silverton, and Jim and Nita Arnold,Rocky Mountain Jeep Rentals and Pleasant View Resort, Lake City. All three companies rent jeeps and offer lodging and/or RV accommodations, but none to tours. All agree on the answer though: "Wildflowers, waterfalls, wildlife, and plenty of western mining history.'" (More on wildflowers and waterfalls.)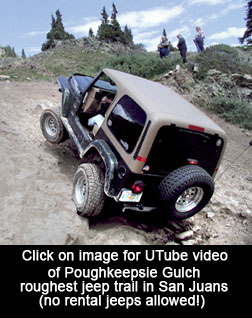 Jeep roads (and ATV trails) through the San Juan Mountains are old mining trails once traveled mostly by miners and mules. (Exploring the backcountry.) Many are rugged and rough enough to satisfy those seeking a thrilling, Poughkeepsie Gulchwhite-knuckle adventure complete with mud, rocks, and sharp dropoffs. Yet wherever you look, there are enough stunning visual treats to please everyone. Picture field after field of colorful wildflowers nodding in a cool breeze. (Especially nice if you're a Texas flatlander on vacation, or even a local just up from Junction to escape the heat.) Kids of all ages love to wade in the cold , clear mountain streams and get a natural shower in the cascading waterfalls.
Looking for wildlife? One glimpse of a "big kitty" (like the mountain lion on the left) and even the most determined-to-be-bored kid will stop complaining. Little kids love the cute little chipmunks and the big fat marmots. Once called "whistle pigs" for the distinctive sound they make, these fuzzy creatures look a little like a long-haired, brown rat. Look carefully, and you'll also find moose, elk, black bear (we don't have grizzly here), mountain goats, big horn sheep, several types of big cats, fox, coyote, wolf, eagles, hawks, and game birds and lots of deer, none of which respect the "rules of the road," and are likely to jump out in front of you!
The mining "relics" and ghost towns you see are the real deal, a past preserved for our future. (Region's hardrock mining history.)
| | | |
| --- | --- | --- |
| Jeeps at top of Corkscrew Summit. Courtesy Switzerland of America Scenic Jeep Tours. | Mining structure, San Juan Mountains. ©Kathryn R. Burke | Ascending to Black Bear in Silver Summit rental Jeep. ©Kathryn R. Burke. |
Please stay on marked trails. Take only pictures; do NOT pick the wildflowers. Don't feed the animals (people food can kill them) and don't get to close. Remember they are "wild" animals, not pets. Leave nothing behind, especially not trash or footprints in the wildflowers. And please remember, alcohol and altitude do not mix, especially if you add ATV to the equasion. Do your drinking after you come back in from the trails!
---
Photographs
Top: Jeeps caravan above Telluride on Black Bear Pass, one of two trails forbidden to rental jeeps. © James Burke
Middle right: Poughkeepsie Gulch, the other "forbidden" trail to rentals. © Don Porter
Middle left: Mountain Lion. © Brian Jacobs
Row of three photos: Silver Summit rental Jeep in flowers (left) and mine relic (right) ©Kathryn R. Burke
Tour jeeps at Corkscrew Gulch, Courtesy Switzerland of America Tours.