area ranching originated in 1870s and it still plays a strong role in  the county's economy
[Colona, Colorado] In1875, THE LOS PINOS Indian Agency (originally established 1869 in Conejos, New Mexico) was moved to the Uncompahgre Valley just north of the future town of Colona (in Ouray County Colorado). The area had long been inhabited. Members of the Ute Tribe camped and hunted here along the leafy course of the Uncompaghre River, but with the arrival of settlers, and the beginning of farming, game became scare. To supply food to the new agency, a herd of government cattle was trailed in from Gunnison, Colo.
Ranching soon became the lifeblood of the area. Arriving by foot, by horseback, and by covered wagon, more and more pioneer families settled here. Life was often hard, and they overcame innumerable hardships with courage and ingenuity. Above all they helped each other, forming close-knit communities that still endure. Their wisdom and lore have much to offer in facing the challenges of today. Ranching still remains a vital part of Ouray County's economic history and ranching families have long dreamed of finding a way to honor their past and their pioneering ancestors.
That dream was realized when in 2000, when a gift from designer Ralph Lauren and his wife Ricky, owners of the Double RL Ranch, gave it new vigor. As part of the town of Ridgway's library building project, the Laurens donated a special section devoted to local ranching history. A huge oral history project was to be its centerpiece. Soon volunteers fanned out, collecting memories from the ranch community and publishing them in two lively volumes (with a third yet to come). The histories were a great gift to the people of the county and the cozy special section was a great place too read them, but space to display artifacts was necessarily limited. As more and more people came forward to offer memorabilia, it became obvious that a larger home was needed to do justice to the county's ranching history and a small, determined group of local people has worked ever since to make it so.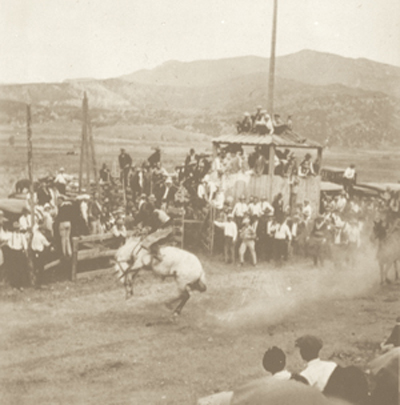 Meanwhile, in the ranching community of Colona on US Highway 550, an impressive two-story landmark schoolhouse stood sentinel over houses and fields just as it had since 1916. In 1963 the Colona chapter of the Colorado Grange service organization bought the decommissioned school building, and has successfully applied for grants from the State Historic Fund to begin restoration. In two of its sunny, high-ceilinged old classrooms, the Ouray County Ranch History Museum at last had room to grow. "It seems like a great fit, a real win/win situation," said Grange President Harry Loss at the lease signing ceremony between the Grange and the Museum in August, 2007.
The museum features exhibits on ranching life. Included are tools, furniture, cooking and homemaking items, linens, photographs, books, and western art. The collection is impressive. An interactive children's exhibit keeps the kids busy while parents browse. The "Blood, Sweat, and Rhinestones" exhibit depicts the transition from local rodeos like the one pictured right through the western movies which presented the "old west" Hollywood-style. Early rodeo was truly a spectator sport. There were no barriers between the performers and the audience, who often had to scramble to get out of the way! The display also showcases some of the area's rodeo and wild west show performers and western movie stars. The transition from ranch to arena to the "silver screen" was a natural one. What is surprising, and well displayed here,  is the number of women who excelled as performers in both rodeo and wild west shows. Anna Lee Aldred, Mamie Fancis Hafley, and Reine Hafley Shelton all had ties to this area, and were big names in the arena. Pictured left, Anna Lee Aldred,who after retiring from racing became a trick rider, performing at rodeos throughout the US. In her later years she was a familiar sight volunteering to work around the stables at the Montrose County Fair.
Throughout the year the museum and the grange offer special events, including music and storytelling, often serving potluck. The old school serves as a community center as well as a grange and museum, and has a long history of opening its doors to local folks.
Within the museum, a small gift area offers hardbound and softcover copies or Ouray County Ranching History, Vol II (published by San Juan Publishing), as well as cards, coffee mugs, and other gifts with a dontation to the museum.These items may be ordered by contacting museum curator Joan Chismire The Ouray County Ranch History Museum opens each summer on Memorial Day weekend, and is open from 1 p.m. to 5 p.m. every Sunday through September. The museum is also open throughout the year to groups and individuals by appointment. Admission to the Museum is free, but donations are requested. For more information on Ranch Museum programs, membership, how to make donations, information about events, displays, and space availability, please contact the museum." Ranch History Museum 206 Cty Rd 1, Colona, CO, 81403 P.O. Box 190, RIdgway, CO, 81432 Museum open Memorial Day through September and by appointment. 970-318-1190
---
Photography
Top-Bottom: Kelly family covered wagon. Courtesy, Dee Kelly.
Ranch History Museum in old Colona Schoolhouse is a National Landmark. Courtesy James Burke.
Farm and Ranch Tools Exhibit. © Kathryn R. Burke
Ridgway Rodeo, circa 1920. Courtesy Ouray County Historical Society. Notice that there was no barrier between audience and performers, which made for some interesting shows!
Anna Lee Aldred performs the 'Cossack Drag." Courtesy National Cowgirl Museum and Hall of Fame, Fort Worth, Texas.
---
 "Ranching History of OurayCounty, Vol II" may be obtained from the museum with a donation, or may be ordered directly from the publisher, San Juan Publishing, which will then gift the entire sales price to the ranch museum.