CHIEF OURAY
Statesman, peacekeeper, linguist, & Indian chief
Story by Kathryn R. Burke
All content © San Juan Publishing Group, Inc, All rights reserved.
[Ouray Colorado] CHIEF OURAY, 1883-1880, was perhaps best known for his understanding of the problems facing his people, the Tabeguache Ute band (also known as the Uncompaghre Ute tribe), and his attempts to negotiate a peaceful reconciliation between his people and the white man. Ouray recognized that war between these two people could only spell doom to the Utes.
Chief Ouray
There is no written record of his early years, and what we know has been passed down through oral history. He was born in New Mexico in 1833 (although some accounts give his birth as 1820). His father was Jicarrila Apache adopted into the Ute. His mother was Uncompahgre Ute tribe. As a boy, Ouray learned to speak Spanish, English, and later, both the Apache and Ute languages. His linguistic abilities later made him invaluable in negotiating between white man and Indians. Ouray came to Colorado when he was about 18 where he joined the Tabeguache Ute bandm and where his father was already a leader.
Ouray was not only a skilled linguist, he was also a statesman. The United States president Rutherford B. Hayes met him in 1880, and deemed him "the most intellectual man I've ever conversed with." He also met President Ulysses S. Grant. (Wikipedia) His own people were not so enamored of him, however, and many thought him a coward since he preferred to negotiate rather than fight. Ouray also frequently dressed as a white man, although he kept his hair long and wore it as other Ute men did.
Ouray, and his wife, Chipeta, were well known in Ouray where they were a familiar site as they rode through town in their buggy. A wealthy man, Ouray had several homes in western Colorado, one of them in Ouray (near the present-day Wiesbaden hot springs and hotel).
Despite his enlightened best efforts, Ouray's attempts to forge a peace a peace between his people and the whites was ultimately foiled by the "Meeker Massacre," a tragedy typical of the whites' misunderstanding of Ute culture and the U.S. government's attempt to force them to change their lifestyle. Utes were nomadic hunters and expert horsemen. They loved contests involving horses. The government tried to make them into farmers. To enfore this, a poorly chosen and ineffective Indian Agent, Meeker, plowed up their race tracks near his agency.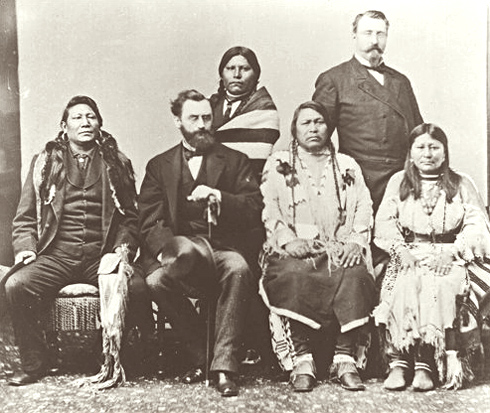 Delegation of Ute Indians in Washington, D.C. in 1880. Background: Woretsiz and General Charles Adams are standing. Front from left to right: Chief Ignatio of the Southern Utes; Carl Schurz US Secretary of the Interior; Chief Ouray and his wife Chipeta.
When the Indians, not surprisingly and somewhat aggressively, objected, Meeker called for military assistance. The Utes rode out to meet them, asking for peace. Their requests were ignored and a fight ensued. The Indians killed the agent and most of the soldiers sent to help him.
Sadly, Ouray's Uncompaghre Utes were not involved, and Ouray had sent orders to the other Utes to stop fighting. No matter. The white settlers demanded retribution and punishment, so the Utes were sent away to a reservation in Utah. Ouray died not long after that,
Ouray Mayor Bob Rich, an astronomer, offered an interesting theory on how Ouray came by his hame.
"A historic meteor storm that occurred November 13, 1833 — the assumed date of Ouray's birth—stunned the North American continent. Meteors were shooting through the sky at a rate of 200,000 per hour and many thought it was the end of the world. Ouray's parents were probably impressed by the meteor storm. We know that Ouray means arrow in English"— and the meteors must have resembled arrows falling from the sky," Risch speculated.
Photography
Above, Chief Ouray. Courtesy Ouray County Historical Museum.
Right, Chief Ouray with delegates to Washington, 1880. From Wikipedia story