"Many men go fishing all of their lives
without knowing that it is not fish they are after."
…Henry David Thoreau
Fly Fishing and Enlightment
Story by Al Carmichael. Photography by Bob Burk
All content © San Juan Publishing Group, Inc, All rights reserved.
[Montrose, Colorado] THERE ARE FEW places on earth on earth where one can go to find enlightenment. People climb the highest mountains, travel to the ends of the earth, and spend hours in a meditative state searching for inspiration and self-awareness. But there are many paths that lead to the same place, and here on the Western Slope of the Colorado Rocky Mountains, these paths lead to doors that open, welcoming you into your local fly shop, where you can start your own spiritual journey called Fly Fishing.
Fly Fishing is a synergy of body, mind and soul. Physically, Fly Fishing is an exciting and demanding sport that has you trying to understand the physics of motion while stalking along any given body of water that supports aquatic life. Mentally, you explore trout habitat in streams and lakes, uncovering entomological clues that help solve the puzzle of what, when and where trout eat. Spiritually, you enter an altered state of being, connecting with the natural world surrounding you, shedding the complexities and stresses of day-to-day life. The rewards of Fly Fishing are great, but the journey is what makes the experience worthwhile.
The Fly Shop
Since any journey worth pursuing is not without its challenges, the Fly Shop is the perfect place to start Fly Fishing. Your local Fly Shop is the epicenter for information and instruction on Fly Fishing. It is the goal of the fly shop to help you succeed in the sport, and many times the shop will offer free clinics on fly casting, fly tying, and fly fishing techniques to help you successfully start your journey. It's time to step through the door of your local Fly Shop, and meet the eclectic group of fly fishing masters, whose own convoluted journeys have led them to the wonderful sport of Fly Fishing.
The Experience and the Journey

Picture yourself in a canyon, twenty times deeper than across, the melodic sounds of the river filling your senses as you cast your fly so it lands silently on the surface of the water, floats and then disappears in a small ripple. Simultaneously, you feel the wild energy of the trout, the pulse of the river in tune with your own, and you are connected to all that surrounds you. This is Fly Fishing.
The beauty of Fly Fishing lies in the fact that you are always learning, and you can spend a lifetime or a week Fly Fishing and come away an enriched person. On the Western Slope of Colorado, opportunities abound for a Fly Fishing experience custom made for your enjoyment. Fabled rivers like the Gunnison, surrounded by lesser-known gems such as the San Miguel, Cimarron, Uncompahgre, Dolores, and Animas Rivers make Western Colorado an amazing Fly Fishing Mecca. It's time to stop searching for the path to enlightenment and start following it. Find the Fly Shop nearest you and open the door that will start your own journey, a journey that will last a lifetime.
Al Carmichael is a guide and is associated with Cimarron Creek Fly shop, Montrose. 970-249-0408. www.cimarroncreek.com
Back to the top
Fishing Mecca in a Wealth of Waterways
Story by Beth Buehler. Photograph by Paul Gallaher
All content © San Juan Publishing Group, Inc, All rights reserved.
[Gunnison, Crested Butte, Colorado] With hundreds of miles of scenic waterways and 3 million new fish released each year from the state's Roaring Judy Fish Hatchery, Gunnison County is an excellent choice for a fishing vacation. There is a plethora of fishing events and great lodging and package deals on line for this summer and fall. Just to give you an idea how good the fishing is, Don Walker reeled in a lake trout (mackinaw) from Blue Mesa Reservoir last May that weighed 50.35 pounds. The previous record, set in 2002 by his brother-in-law, was shattered by about 3.5 pounds. Blue Mesa, located west of Gunnison is the state's largest body of water and home to the biggest kokanee salmon fishery in the United States. Gunnison County also holds state records for the largest brown trout, rainbow trout and kokanee salmon.
The wealth of water in Gunnison County makes for exceptional fishing: less pressure on the fish means more success for anglers. Gunnison County's lakes and streams are home to kokanee salmon, northern pike, and brown, rainbow, cutthroat, brook and Mackinaw trout. Area waters entice dry fly-fisherman from June through early November with their strong fly hatches.
The area's largest and most popular fishing river, the Gunnison River, begins near the small town of Almont at the confluence of the East and Taylor rivers. Stretches of this legendary trout stream, including a section of Gold Medal trout water downstream from Black Canyon of the Gunnison National Monument, are among Colorado's finest trout water. The Gunnison River is the second largest river in the state and has more fish per mile than any other river in the state, according to the Colorado Division of Wildlife.
The free-flowing East River is smaller, with a section of wild trout water above and below the Roaring Judy Hatchery, located approximately 11 miles north of Gunnison. The Roaring Judy ponds, located beside the river at the hatchery, provide a home for record-breaking brown trout and many small rainbows.
The Taylor River flows through its craggy canyon in the shadow of the jagged Sawatch Range to Taylor Park Reservoir, a beautiful high mountain lake that teems with cutthroats, rainbows and browns. Below the dam, a prime catch-and-release area yields 6- to 12-pound rainbows and is reported to contain rainbow trout that are larger than the current state record.
Good fishing—by boat or from the shoreline—also is found at Blue Mesa Reservoir within the Curecanti National Recreation Area. With 92 miles of shoreline, Blue Mesa Reservoir offers a large number of great fishing spots.
Many of Gunnison County's unspoiled alpine lakes—where solitude and breathtaking scenic beauty is the norm, rather than the exception—also are accessible by vehicle. For those who prefer a guide, Gunnison County has a number of private outfitters for scenic backcountry fishing and float trips. Visit www.GunnisonCrestedButte.com for a list of outfitters and fishing events, and to sign up for an email newsletter about fly-fishing conditions on the Gunnison River, East River, Taylor River and the Taylor River catch-and-release area by clicking on "e-mail newsletter sign-up" in the right corner.
Beth Buehler is associated with the Gunnison-Crested Bute Tourism Association. (970) 349-1168 or [email protected]. www.GunnisonCrestedButte.com/fishing
Back to the top
Fishing in Ouray County
Story by Tim Patterson. Photography courtesy RIGS
All content © San Juan Publishing Group, Inc, All rights reserved.
[Ouray County, Colorado] From deep canyon pools and gently braided runs to high country lakes and magnificent reservoirs, Ouray County offers anglers of all ages and ability levels a chance to participate in some of Colorado's finest angling opportunities.
Fly fishermen, spin casters and bait fishermen alike, all have locations in which they can enjoy making some casts to the regions diverse selection of trout. Rainbow, Brown, Cutthroat and Brook Trout, as well as the occasional Konkanee Salomon, can all be found within a short drive from Ouray. Throughout the summer, excellent access to the high country offers anglers unparalleled beauty and incredible insect hatches. Eager fish, crashing the waters surface are sure to keep your attention.
So whether you're looking for a fun and relaxing place to take the family or you're in search of remote and productive trout waters, the region has something for everyone. To help determine which location would be best for you and your group, here are a few suggestions from RIGS for some of Ouray County's better options for wetting a line!
Uncompahgre River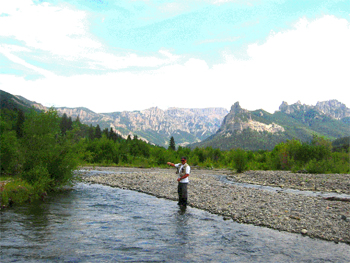 Although sections of the Uncompahgre River through the City of Ouray are too turbulent for productive fishing, a bit further down river offers gentle and easily accessible. The Pa-Co-Chu-Puk & Dallas Creek areas within Ridgway State Park offer classic tailwater river fishing, small creeks and stocked ponds the whole family can enjoy. *Access here excellent for all ability levels, including disabilities.
Ridgway Reservoir Dutch Charlie Area.
Enjoy great shoreline fishing especially on the south shore of the cove where it opens out into the main body of the reservoir. It's close to picnicking sites, a playground and a modern, universally accessible fishing pier.
Dallas Creek Day Use Area.
Highlights include a long shoreline for river or reservoir fishing with convenient drive-up areas and parking spaces. The best fishing is often found where the Uncompahgre River empties into the main body of the reservoir. Kokanee salmon are here during their autumn run.
Cimarron River & Silver Jack Reservoir.
The Cimarron River offers great angling opportunities for Cutthroat, Rainbow and Brook Trout. This often overlooked fishery can provide excellent dry fly-fishing throughout the year. A good piece of tail-water angling lies just below Silver Jack Reservoir. The Forks of the Cimarron River offer incredibly scenic fishing in the Big Blue Wilderness, while easy hike access to several scenic high alpine lakes is excellent.
Creeks and High Lakes Dallas Creek.
This large feeder creek flows into Ridgway State Park Reservoir and is home to an excellent trout population, access is limited. Canyon Creek. One of the few good streams in the Ouray area for fly fishers. Both brook and rainbow trout are found here. Cow Creek. Upper Cow Creek offers excellent opportunities for those seeking solitude. The more difficult the access (bushwhacking required), the bigger the trout Crystal Lake. Located just a few miles from Ouray, up Red Mountain Pass to Ironton Park, and on your left is a crystal clear spring feed pond that has some nice dry fly fishing. Blue Lakes. These three lakes sit at an elevation of approximately 1,100 with stunning views and some nice size trout as an added benefit. Unfortunately, access to these beautiful lakes is accomplished by hiking four miles into the Mt. Sneffels Wilderness area on TR #201. The three lakes range from 6 to 16 acres in size. Remember to go prepared for all types of conditions.
*Don't forget to contact the local fishing shop to receive the most up to date information on conditions, locations, licenses and supplies.
Tim Patterson is the co-owner of RIGS Fly Shop & Guide Service, in Ridgway on Hwy 62. 888-626-4460, www.fishrigs.com
Please see related article, Profile:RIGS, discussing their conservation efforts.
Back to the top
Fishing Ridgway Reservoir
Story by Scott Rist, Ranger. Photograph by Bob Bur
All content © San Juan Publishing Group, Inc, All rights reserved. k
[Ridgway, Colorado] Fishing at Ridgway Reservoir is very good, even when the water is low. Once the ice leaves the lake in early April, there have been numerous Brown Trout caught that are over 6 lbs. The largest of the spring has been 15lbs. "The have been six Browns checked in at the visitor center over 6 pounds, and that is probably just a third of the number of large Browns caught. Not everyone comes and reports to the Visitor Center what they catch."
The Colorado Division of Wildlife stocks over 25,000 Rainbow Trout each year. Shore fishing for the Trout is excellent. There have been reports of people limiting out on Rainbows from shore and their boats. Over the last few years the CDOW has also stocked 60,000 Splake, some reaching around 15 to 17 inches.
Ridgway Reservoir is open to boating even in low water. The boat ramp is designed to launch boats until the reservoir reaches minimum pool. The ramp reaches to the end of Mears Bay, out into the main body of water. Watch for the "No Wake" zone on the south end of the lake, which in low water may be too shallow for boating. Boaters should still use caution while boating, and look for rock out cropping and shallow areas.
By early May, The San Juan's hold over 130,000 acre feet of water. Total Reservoir capacity is 84,410 acre feet of water. During the high runoff season (early spring) Tri County Water may be dropping water levels to make room for the projected run off and to prevent flooding down stream. Tri County Water g enereally takes the reservoir down to water elevation of 6836 feet above sea level. As the temperatures begin to warm, the resevoir will begin to refill. The reservoir is full at elevation 6871 feet above sea level.
For more information on water levels and releases contact Tri County Water at (970) 626-5475.
Scott Rist is a Ranger at Ridgway Reservoir, Ridgway State Park. Attracting more than 11 million visitors per year, Colorado's 42 State Parks are a vital cornerstone in Colorado's economy and quality of life, offering some of the best outdoor recreation destinations in the state. Colorado State Parks manages more than 4,000 campsites, 57 cabins and yurts, encompassing 246,000 land and water acres. For more information on Colorado State Parks or to purchase an annual pass online, visit www.parks.state.co.us.
Photography – credited with each story
I
Notes
Ed.:Both Scotts Fly Rod and Ross Reels, two manjor manufacturers of fishing equipment, are based in Montrose.
If you would like to add your event or area, or submit a story with images, please email our Editor