Preserving precious resources through exquisite photography
[Durango, Colorado, 2011]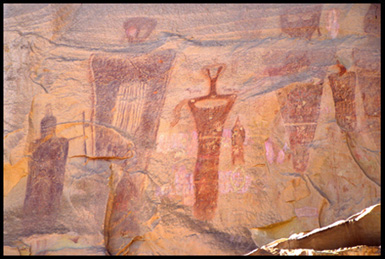 PHOTOGRAPHY CAN DO a multitude of things: record a moment in time, define a memory, preserve the past, even alter the future. The work of  Image Count's photographers, Jim and Eileen Baumgardt, does all of this… and more. In one single image, these nature photographers capture the essence of a time and place, making an indelible impression they hope will influence us to honor our heritage and conserve our resources so that future generations can share both.
"Looking around at how quickly the natural landscape is vanishing had a profound effect on why I am anxious to record nature while it still exists in its present form," Eileen explained. "By photographing areas in which no building, motorized vehicle, or other man-made invention can compete for beauty, I hope to open eyes to the need to preserve and sustain our fragile environment."
Jim is passionate about preserving petroglyphs and pictographs. "Both are disappearing, almost exponentially, as more and more people discover and vandalize these irreplaceable pieces of history.
I go out of my way to find pristine examples of this art." he said, "to discover and document really remote, obscure places, while still pristine." (When titling his work, or defining where an image was taken, Jim rarely gives specifics, hoping his obscure references will help preserve the sites.)
Both Baumgardts understand how best to light their subjects, and choose the perfect time of day for their photographic sojourns. "We do a lot of research before we go out to shoot," Eileen said. "We build a list, defining what, where, when is the best time of day, of the year, what is the best weather, for photographing a particular subject or area."
"I try to take in as many factors as I can," Jim added, "but we don't always have a lot of flexibility." (Both work full time.) "So, sometimes we just have to take our best guess. Other times, we just go to an area that's pretty, like the Dallas Divide, or Canyonlands, then just move around and see what strikes our fancy rather than do a lot of heavy planning."
Ask Eileen about some of those "driving around" trips. She's often the driver, while Jim wanders off looking for the perfect picture. Which, of course, he finds.
The Baumgardts, both award-winning photographers, exhibit in local and regional shows and are pleased that so many of their images have been selected to appear in various publications. Their work is on display at their Durango gallery, Image Counts. They print, mat, and frame their own work, showing it to its best advantage at the gallery, in addition to the highest quality custom framing for customers. "We use archival photographic paper and matting," Eileen said, "and most of the material for our Larson-Juhl frames comes from sustainable forests. We also carry hand-crafted aspen frames made by a local artist." The gallery also does giclée prints (ink on canvas, varnished if requested).
"My favorite seasons for outdoor photography are spring, summer, winter, and fall," Jim said. "The Four Corners area is so rich in beautiful subject matter that I will never run out of fantastic subjects to photograph." "Natural beauty feeds my soul," added Eileen, "and I love to photograph it."
---
All photographs by Jim and Eileen Baumgardt, © Image Counts Gallery.  Fine Art Nature Photography. All rights reserved.
---
Jim shoots exclusively with a Nikon D200 digital camera. Eileen shoots with both a standard 35mm camerea or a digital Nikon. Workshops, classes, and private photo tours are available. For more information, contact them at Image Counts Fine Nature Photography, 2053 Main Ave., Durango, Colo. 81301. 970-382-0055.
---
Additional reading and references:
Trail of the Ancients, images from Jim & Eileen Baumgart, Image Counts.
---